High Bickington homes for rent take shape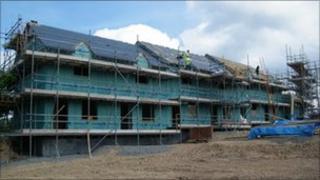 A pilot project is aiming to ease the shortage of affordable homes in Torridge, north Devon.
Sixteen homes - seven for rent and nine for shared equity purchase - are being built in High Bickington for local people.
Those buying shared equity houses will buy a share of anything between 40% and 80% of its value.
The High Bickington Community Property Trust (CPT), the group behind the scheme, will make up the rest.
There will also be a community centre, allotments, a school and another 23 homes for sale on the open market.
The idea for the scheme came in 2000 when Devon County Council told the parish council it was looking for an innovative use of 20 acres of redundant farmland on the edge of the village, at Little Bickington Farm, which is owned by the county council.
Villagers and the county council created the CPT to take the project forward and a planning application was approved by Torridge District Council in 2003.
Prince Charles even cited the scheme as a success story for the way it was dealing with the shortage of affordable housing.
But the plans were referred to the Government Office for the South West as a "major departure from the Local Development Plan".
That led to a public inquiry in January 2006 and the plans were rejected.
Despite this setback, the parish council and CPT remained determined to continue and in 2008 they won planning permission for a smaller scheme.
CPT chairman David Brown said: "Being rejected in 2006 was a big blow.
"There was a moment when we asked ourselves if it was worth carrying on, but we thought we need a future for our young people."
The Rural Housing Review, from the Halifax Bank this week, put Torridge second in a list of least affordable areas for housing in the UK.
Its survey said a typical house in Torridge cost £193,161, nearly eight times the average annual local wage of £24,795.
Mr Brown, 68, said: "If communities are not going to die we have to find a way to keep young people and families in particular, in the community."
He is one of about 12 volunteers who have worked to bring the scheme about.
The first phase of the scheme is on schedule to be completed by 24 December.
It will include 16 affordable homes for rent and shared equity purchase, two open market homes, two workshops for rent and two workshops for sale.
Work has also started on a community centre in the second phase.
The scheme is thought to be the first of its type in Devon, but another is being planned at Roborough near Winkleigh.