Devon district councils report flytipping increase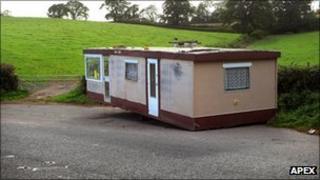 Flytipping has increased at five of the eight district and borough councils in Devon during the past year.
East Devon, North Devon, Mid Devon and South Hams district councils and West Devon borough council said they had dealt with more incidents.
East Devon saw the biggest rise, from 227 incidents in 2010 to 315 in 2011. The county council started charging for the disposal of some items in April.
In one incident, a 20ft (7m) long mobile home was dumped in a lay-by.
Devon County Council said the charge could not be blamed for the rise in flytipping.
The Conservative-controlled council introduced a charge on 1 April to dispose of rubble, plasterboard, bonded asbestos and tyres.
'Flytipping mountain'
Liberal Democrat councillor for Buckland and Milber, Gordon Hook, said: "I've always felt charging to recycle waste is a counter-productive method and the evidence is growing that my fears are justified.
"The evidence suggests that it is those very materials [charged items] that are increasing on the flytipping mountain."
However, county councillor Roger Croad, who is in charge of recycling centres, said the introduction of charges could not be blamed for people's failure to obey the law.
"There's been small increases in certain areas... we're only six months into the charge, give it a year and we'll know where we are," he said.
"In Devon, 86% of all the stuff that's flytipped can be taken free to a recycling centre.
"Over 95% of stuff that's taken to recycling centres goes in free of charge."
A mobile home was dumped in a lay-by on the outskirts of Sidmouth earlier in the week.
An East Devon District Council spokesman said: "We will arrange for the mobile home to be removed at the first available opportunity.
"Once we establish the identity of the owner, we will be sending them the bill for removal and, if necessary, will take court action to recover these costs."