Cat shot in head in north Devon village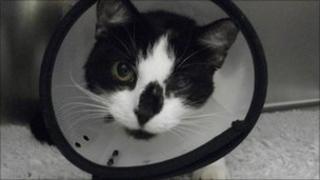 A cat is recovering after being shot in the head in a Devon village.
The cat, known as Beemer, is recovering from an operation to remove the airgun pellet after the attack in Winkleigh.
Devon and Cornwall Police and the RSPCA was investigating the incident. His owner said it was a miracle that he was alive.
An RSPCA spokesperson said anyone convicted could face a maximum of six months in prison or face a fine of £20,000.
Beemer's owner, Carley Parker, said: "Originally we thought he had been run over. We took him to the vets and they found the bullet in his head."
Ms Parker added: "We are devastated, it's outrageous and he's lucky to be alive.
"I'm quite happy to leave the village... I'm frightened to let my cat back out."
Jo Barr, from the RSPCA, said: "It's possible that he was shot at quite close range.
"It [the offence] carries up to six months in prison and/or a £20,000 fine, it is something that is taken seriously."
In September, the village of Winkleigh was named the best place for families to live in England and Wales, by savings firm Family Investments.
The list was compiled by rating schools, crime levels, amenities and affordable homes in England and Wales.