Exeter road named after killed soldier Jack Sadler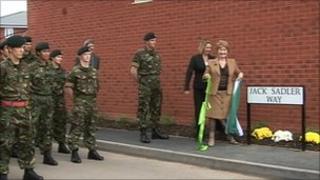 A Devon soldier killed in Afghanistan has had a road officially dedicated to his memory.
Trooper Jack Sadler, 21, died in 2007 when his vehicle was caught in a blast in Helmand province.
Jack Sadler Way was unveiled by his mother, Jeannette MacDonald, who said her son would have been "very amused" by the honour.
The road is on a new housing development in Exeter on a former Ministry of Defence (MoD) site.
Ms MacDonald said she thought her son would have found it amusing that his name would be on so many future envelopes.
"I feel very proud... it's a huge honour.
"The development is on an old MoD site which is very appropriate," she added.
Ms MacDonald said that it was a fitting memory as Exeter was his home for most of his life and the city he loved.
Trooper Sadler first joined the Honourable Artillery Company as a recruit in October 2005, and had hoped to join the regular army after his tour of Afghanistan.