Devon parents refused paedophile information by police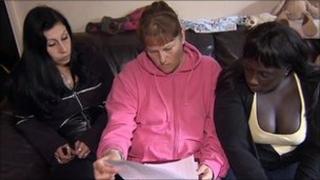 A group of parents who discovered a convicted paedophile living near a school in Devon have been refused information about him by police.
One of the parents requested details under the Sarah's Law scheme, which was introduced to protect children from abuse but was refused.
The woman said her children knew the man and had been in his house.
The police said they would give information when it was deemed necessary to keep children safe.
The woman applied under the Child Sex Offender Disclosure Scheme or Sarah's Law, but was refused information about the man.
"They [the police] told me that it was a minor offence, and there was no risk," she said.
Information needed
Another parent told the BBC: "We need more information to protect us and the welfare of our children.
"We should have access to the information about him," she added.
Sarah's Law allows parents to ask police if someone with access to their son or daughter has been convicted or suspected of child abuse.
But Det Ch Insp Dave Thorne, of Devon and Cornwall Police, said: "We decide case by case and we have to consider whether it's high risk or not.
"We can only give information out, where it's absolutely necessary to keep children safe," he added.
Mr Thorne said that the police worked with probation officials to decide if information should be released.
Sarah's Law - which sets out the criteria for access to the Sex Offenders Register - was established after the murder of eight-year-old Sarah Payne by Roy Whiting in 2000.
It was extended to cover the whole of England and Wales in April 2011.