Devon's Manor Cottage care home 'must improve', says CQC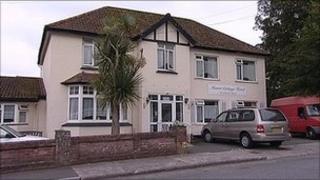 A Devon care home has been warned by the Care Quality Commission (CQC) that it is failing to protect the safety and welfare of its residents.
An "immediate improvement" at the Manor Cottage Retirement Hotel in Paignton was needed, the regulator said.
Inspectors found facilities and equipment were dirty and unhygienic, and not enough had been done to prevent the spread of infections, the CQC said.
The care home said it had since complied with all the new requirements.
'Matter of urgency'
The CQC said it had issued a formal warning to the care home and "urgent improvements to standards of care" had to be made or the company would face further action.
Ian Biggs, the CQC's regional director in the South West, said: "This warning sends a clear and public message that Manor Cottage needs to address this issue as a matter of urgency or face serious consequences.
"Our inspectors will return in the near future and if we find that the provider is not making the required progress we won't hesitate to use our legal powers to protect the people who live there."
The provider, manager and staff did not have or adhere to policies which help to prevent and control infections at the home, the CQC said.
The registered provider, Kenneth Peek, said: "While not agreeing with the total content of the notices, we have reorganised our monitoring systems.
"We have now complied with all new regulatory requirements," he added.
The warning notices followed an unannounced visit by inspectors in September.
The home is registered to provide care for up to 18 people.