Brewery applies for Dartmoor name protection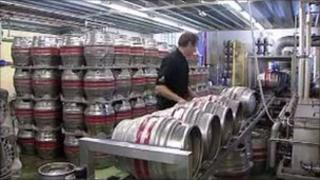 A Devon brewery is applying to Europe for status to stop breweries elsewhere using the Dartmoor name.
Princetown's Dartmoor Brewery said it wanted to avoid confusion with other companies, which have used the name on its beers.
It said the Protected Geographical Indication status would stop other companies from "cashing in".
Similar protected status was awarded to the Cornish pasty by the European Commission in February.
Dartmoor head brewer Mike Lunney said he believed only a brewery in the area was geographically entitled to use the "Dartmoor" label.
He said: "The company's been built up over 17 years and we don't really want anyone cashing into the hard work that companies like us put into the Dartmoor brand.
"By putting it into a European framework, we're letting somebody else decide what is fair and what is unfair."
But he added: "It should be for the people of Dartmoor."
'Cornwall tag'
The St Austell Brewery in neighbouring Cornwall has a beer called Dartmoor Best Bitter.
It said: "Dartmoor Best was originally brewed in Devon and, since taking it over in 1993, the ale has been produced in Cornwall.
"To minimise confusion and remain transparent, the brewery has introduced a 'Brewed in Cornwall' tag for all pump clips."
As well as the protected status for the Cornish pasty, a similar protection bid for West Country beef was started in June.