First Great Western amends Dartmouth trains advert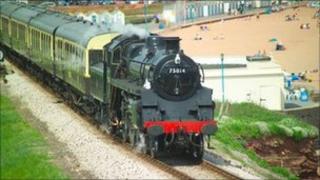 A train operator has been criticised for promoting a Devon destination it does not go to.
First Great Western's (FGW) "Explore" advertising campaign featured Dartmouth, with the catchline: "The train makes it easy to get to Dartmouth."
But the nearest network train station to Dartmouth is Paignton and Dartmouth can only be reached via a heritage steam train to Kingswear and then by ferry.
FGW has amended the advert.
Anthony Smith, chief executive of Passenger Focus which complained about the adverts, said: "We welcome creative ideas for promoting the use of the rail network.
"However, passengers may be somewhat perplexed at being encouraged to buy train tickets for travel to a destination which has no train station."
The Paignton and Dartmouth Steam Railway runs services to Kingswear, on the opposite side of the River Dart, on a line which closed to network trains in 1972.
From there, passengers using the line have to take a ferry across to Dartmouth.
An FGW spokesman said: "Customers travelling to Dartmouth can take the train to Totnes, and then the bus through to Dartmouth. Alternately they could take a train to Paignton, then the steam train on to Dartmouth.
"We have recently updated our website to reflect this information and amended the marketing posters to include reference to the nearest station."