Devon primary grit routes reduced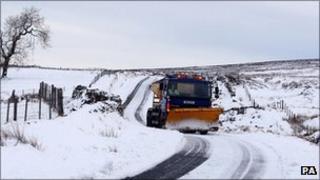 About 60 miles (97km) of Devon roads classed as the most important to grit will not be prioritised this year.
The county council said it was reducing its primary gritting network, removing some routes from its priority lists but adding others.
The network was 1,720 miles (2,770km). The council said 80 miles (130km) had been taken off but 23 miles (37km) of alternatives were being added.
Full details would be published next week, the council said.
Highways operations manager Chris Cranstone said that routes removed from the primary network were not being abandoned.
"Anything that has come off primary salting network will go on to the secondary network, which means that - in very severe weather - it will still get treated," he said.