Exeter Foodbank giving out quarter tonne of food a week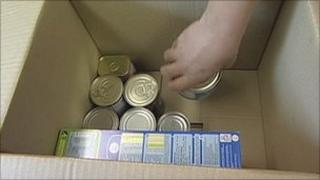 A Devon charity is currently handing out about a quarter of a tonne of food a week, organisers have said.
Clients of the Exeter Foodbank get three days' basic emergency food supplies when they use it.
Manager Joy Dunne said there had been a noticeable increase in demand recently, which was believed to be due to the current economic climate.
She said the work was making a difference, particularly if people had to choose between eating or heating.
Ms Dunne said: "One client said, 'This has stopped me from turning to crime'.
"He would have been stealing food, or stealing something in order to buy food.
"It's also the difference of making the choice between heating or food, whether people's children have to go to bed cold or go to bed hungry."
Twenty schools in the city have supported the project by donating collections from recent harvest festival services to the charity.