Plymouth University students advised after assaults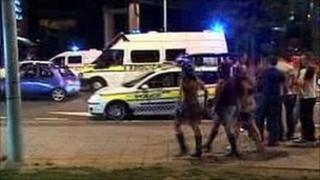 University students in Plymouth have been given safety advice after three separate assaults on the same night.
Devon and Cornwall Police said two women were touched inappropriately by a man, which police have classed as sexual offences.
A third woman was physically assaulted. The incidents happened in the North Hill and Greenbank areas of the city during the early hours of 2 October.
A police spokesman said the force believed the assaults could be linked.
Officers posted a message to students on the University of Plymouth's intranet advising students how to remain safe.
Women have been advised to take "sensible precautions" while out at night and have been told to avoid drinking excessively, and to plan their journey home either by taking a taxi or walking with other friends.
'Punched in face'
Police said the three women were assaulted between 02:30 and 03:15 BST on 2 October.
At about 02:30, a 20-year-old woman was touched inappropriately by a man on Lanhydrock Road, police said.
In a separate incident, another 20-year-old woman was touched inappropriately in Tavistock Place, Greenbank, between 02:30 and 02:45 BST.
The third victim, a 19-year-old woman, was assaulted in Tavistock Place between 03:00 and 03:15 BST. Police said a man put his arm around the victim and then punched her in the face before running off.
During the assaults the man has been described as white, either tanned or of European origin and between 5ft 6in and 6ft tall.
He was described as having short dark hair, police added.