Plymouth Argyle's Home Park would cost council £1.6m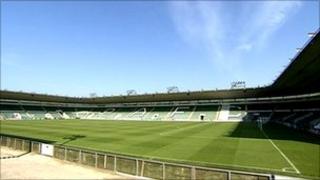 The cost of buying Plymouth Argyle's football ground has been revealed by the city council.
If the purchase goes ahead, Plymouth City Council will pay £1.6m for Home Park and rent it back to the club for £135,000 a year.
The rent would be guaranteed for 30 years, the local authority said.
A decision on whether to rescue the club, which went into administration last December, will be made by the Conservative-led council on Tuesday.
The stadium ground used to be owned by the council, but it was sold to Argyle by the then Labour administration in 2006 for £2.7m.
Council leader Vivien Pengelly said: "Like everyone else in the city we've been watching developments closely and were hoping that the private sector would come up with a solution, but it became increasingly clear this was not going to happen.
"We indicated that we were prepared to consider buying the freehold to support the future of professional football here, as we believe it contributes to the city's economy."
The purchase would also protect the city's land interests as well as its wider strategic objectives, Ms Pengelly added.
The club, which is currently at the bottom of League Two, is the subject of a takeover bid by businessman James Brent, who has said the council purchase of the ground is "crucial" to the deal going ahead.