Okehampton jobs hope as beehive firm expands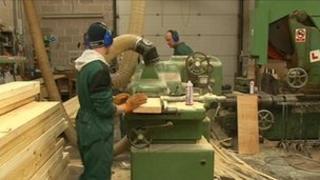 Up to 30 jobs could be created with the expansion of a beehive manufacturer in Okehampton.
National Bee Supplies is moving into the former Robert Wiseman Dairy plant which closed in April.
The move is a boost for Okehampton which has lost hundreds of jobs over the past year.
Bill Stevens, who owns the firm with his wife Paula, said the move to the new workshop was a "fantastic opportunity for expansion".
He said: "When we took it over 10 years ago there was hardly any demand for hives.
"In that time it has changed dramatically as people become more aware of bees' roles in the environment and the food chain."
Robert Wiseman Dairies announced in January that 69 jobs were to go with the closure of its Okehampton plant in April, before Polestar Foods laid off 232 people two weeks later.
After going into administration in March, Browne's Chocolates shed 20 jobs.
Browne's and Polestar have now both restarted production, on a smaller scale than previously.