Tree disease Phytophthora lateralis spreads to Plymouth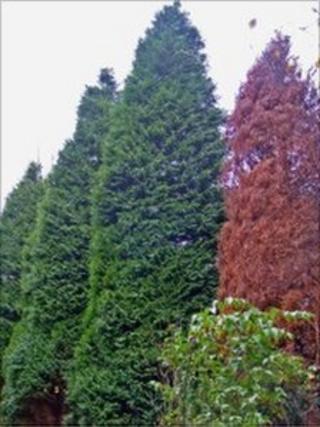 A killer tree disease has been found on an industrial estate in Plymouth.
Fungus-like pathogen Phytophthora lateralis has attacked the roots of a Lawson cypress hedge.
The Forestry Commission said the stricken trees would have to be completely chopped down to ensure the disease did not spread.
The disease is most common in western states of the US and Canada but there have also been outbreaks in Scotland and Northern Ireland.
John Morgan, head of plant health for the Forestry Commission, said: "It is very worrying to find this destructive tree pathogen so far from previous cases in Scotland and we are working hard with colleagues in Fera (Food and Environment Research Agency) to contain the disease quickly and try and trace where it came from.
"Our surveillance teams are actively looking for signs of the disease during helicopter surveys."
Its main victim is Lawson cypress, which is popular in parks, gardens, churchyards and crematoria.
Symptoms of Phytophthora lateralis infection on Lawson's cypress include the foliage initially appearing a lighter olive-grey in colour than that of healthy trees, then withering and turning reddish-brown as foliage dies.
Also, as the infection extends from the roots and root collar up the stem, it kills the inner bark and the entire tree dies.
The disease is very infectious to Lawson cypress and some other trees, but harmless to people, animals and most other plants.
The trees will be felled and disposed of safely and the site subject to "biosecurity measures" to prevent spreading the disease particularly in contaminated soil, felling equipment and other tools, the Forestry Commission said.