Fullabrook wind farm turbine testing nearly complete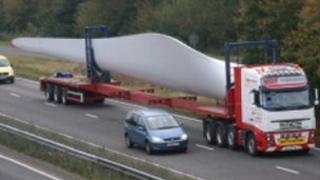 The testing of 22 turbines at one of England's largest onshore wind farms in Devon is almost complete.
Devon Wind Power said the site at Fullabrook, between Barnstaple and Braunton, should be fully operational "within days".
The 110m (360ft) turbines will produce enough electricity to meet the needs of about 30,000 homes in North Devon.
It took 66 convoys - carrying 176 loads - to deliver the parts of the turbines to the site.
An electricity substation has been built on the southern edge of the wind farm site.
From there, underground cabling will connect the wind farm to the national grid at Barnstaple.
Devon Wind Power was granted planning permission at Fullabrook four years ago.
The company has since been taken over by Ireland's state-owned electricity company ESB.