Exeter Prison 'making improvements'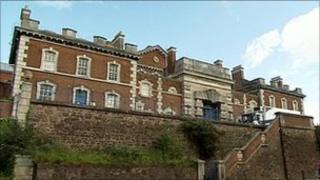 A Devon jail has been praised by inspectors for making improvements.
In a report, Her Majesty's Inspectorate of Prisons said safety and drug treatment programmes had improved at Exeter Prison.
The prison's safety procedures were criticised by inspectors in March 2010, who said they needed to be addressed with "some urgency".
However, the report added that inmates were still spending too much time locked in cells.
The inspectorate said the prison had made "commendable progress" on safety, but that improvements were "less visible in many other areas", including work, education and training programmes.
It added that the age of the prison was also still a problem and that the building, constructed in the 1850s, had a lack of space and was dilapidated in parts.
The Howard League for Penal Reform agreed that the lack of space was a problem, saying that the prison was overcrowded because it was meant to hold 313 inmates, but it currently had about 500.
Frances Cook from the league said: "If this was a ship, it would sink; and that puts an intolerable strain on getting people out to do things."
No-one from the prison has been available for comment.
The National Offender Management Service said in a statement: "The governor and her staff will continue to work hard to improve in areas where less progress has been made, such as purposeful activity and diversity."
The inspectorate said: "We recognised that managers and staff were working hard to further develop the prison and we hope these efforts will bear fruit in the coming months."