Peregrine poisoned by pesticides near Buckfastleigh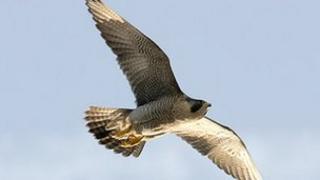 The poisoning of a bird of prey using a banned pesticide is being investigated in Devon.
The young female peregrine falcon was found at Whitecleaves Quarry near Buckfastleigh in July, but toxicology results have just been released.
It is the third such incident within a matter of weeks involving the banned pesticide carbofuran, the RSPB said.
Two peregrines were found in Cornwall just weeks after four goshawks and a buzzard died near Exeter.
Toxicology tests showed the Buckfastleigh peregrine also had aldicarb in its system - another banned pesticide.
The RSPB believes the poisoning was deliberate.
'Live bait'
All three cases are being investigated by Devon and Cornwall Police and the RSPB.
Peregrines at the Whitecleaves Quarry site have been targeted previously, with dead birds found in 1992, 2004 and 2005. On each occasion, the birds had been poisoned.
Wildlife conservationists have expressed concern over the presence of banned chemicals in the countryside.
Ivan Lakin, Natural England's wildlife adviser in Devon, said: "Peregrine falcons have suffered from illegal poisoning in Devon for 20 years - often tricked into consuming poisoned 'live bait'.
"The poison which we have seen used in many of these cases was banned more than a decade ago and it can be potentially as dangerous to the public, children and pets as it is to birds of prey."
Tony Whitehead, from the RSPB, said it had been a "truly awful year" for birds of prey in Devon and Cornwall.
"Whatever the motives of the people that carry out these deliberate acts, we must not forget that they are nothing more than common criminals," he said.
"They show no regard for these magnificent and much-loved birds of prey and also show little regard for the safety of people and their pets walking in the countryside.
"This needs to be stopped."
Devon and Cornwall Police said the persecution of birds of prey was a major problem and had been identified as a key priority for wildlife crime enforcement.
Anyone found guilty of an offence against birds of prey can be fined up to £5,000 or jailed.
All birds of prey are protected under the Wildlife and Countryside Act and the RSPB has offered a reward of £1,000 for information leading to a conviction.