Holsworthy 'affordable' homes out of reach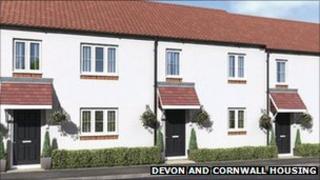 Fourteen "affordable" homes in Devon have been left empty because buyers are struggling to get mortgages.
Devon and Cornwall Housing (DCH) says that "despite vigorous marketing" only two offers had been made on the homes in Craddock Close, Holsworthy.
It said four inquiries on the houses had not been able to proceed due to the 20% deposit required by lenders.
DCH now wants the limitation removed which it says will reduce the size of deposits required.
Fourteen shared ownership properties have been built under a Designated Protected Area (DPA) status.
The policy, restricting ownership to 80%, was introduced by the government in 2009, as a measure to keep homes in rural areas for first time buyers.
DCH said in a letter to Torridge District Council that it had had four inquiries on the houses.
But they had not been able to proceed due to the 20% deposit required to get a mortgage for areas where a DPA restriction applied.
Alan Partridge, of DCH, said in the letter: "This makes it unaffordable for many prospective applicants."
A 45% share in a two-bedroom home costs £57,375 according to the DCH website, meaning that buyers would have to produce a deposit of about £11,000.
The government said in a statement: "Part-buy part-rent schemes have proved popular by allowing people to buy a minimum 25% share depending on their individual financial circumstances and gradually increase their share over time.
"Through the Affordable Homes Programme, the government expects to provide up to 170,000 new affordable homes for both rent and affordable home ownership, including shared ownership, by 2015".
DCH said in a statement: "We are currently working with our partners at Torridge District Council to find a solution to the issues potential purchasers are experiencing."