Tale of regional papers: Plymouth titles 'stay daily'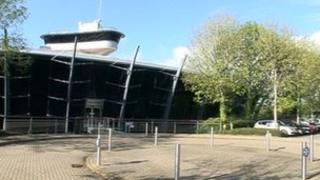 The editor of one of Plymouth's two daily newspaper says both titles will remain daily.
The Western Morning News (WMN) and Plymouth Herald are both produced at the same building in the Derriford area of the city.
Morning News editor Alan Qualtrough said that despite falling circulation, the Plymouth titles would remain daily.
Both Exeter's and Torbay's daily titles went weekly earlier this year.
The Western Morning News is still the flagship of the press in the region, despite the fact it is no longer printed at its ship-shaped building.
The story has changed in Exeter though which, despite having road signs styling it "the regional capital", no longer has its own daily.
Weeklies 'sustainable'
As a survival measure, the city's Express and Echo went weekly in September, following its sister paper in Torbay, after circulation dipped to 16.586.
In Plymouth, which, to be fair, is at least twice the size, the Herald still publishes daily, selling 29,709, the latest figures say.
The WMN sells 31,058 across the region, and its editor, Alan Qualtrough, is confident the two Plymouth titles will remain dailies.
"Those below about 15,000 to 20,000 copies a day are now weekly because of the reductions in cuts and distributions," he said.
"Those models become sustainable. We are nowhere near that point at the Morning News or the Herald".
Plymouth's role as the regional media capital would have been even stronger if ITV had not switched the hosting of its nightly news programme to Bristol - a result of the same pressures facing the newspapers.
But, there are no plans to re-locate BBC Spotlight outside the city.
That BBC's role there is 50-years-old, and the regional head of the BBC, Leo Devine, said that despite recently-announced cuts there are no plans to change things.
He said: "We will have a 20% lighter budget by 2016. But, despite that, I can absolutely guarantee there will be a television service from the city for the South West.
"That goes for radio and online too."
Plymouth's strength as a media centre is shored up by being home to one of the biggest independent production houses outside London, Twofour Productions at Estover.
Wages 'expense'
In Cornwall things could not be more different, in the fact there has never been a daily newspaper in the county.
However, Truro's weekly paper, the West Briton, remains popular, with more than 32,000 copies sold each week.
Editor Richard Best says not have to produce a daily edition avoids many of the problems dailies face.
He said: "Because they've had to keep putting out a paper every single day, they've had to have a lot of staff to do that.
"As things have got more difficult in the market, it becomes more expensive to pay the wages, and things have made less sense to do it that way.
"Whereas if we put out a weekly paper, we've got out property, we've got our motoring, we've out jobs section; we've got it all in one package."
The West Briton turns out to be a sort of template, then, for the future of small local papers. Not bad for a publication that's just celebrated its 200th birthday.
The Western Morning News, meanwhile, has just celebrated its 150th birthday - but if it is to reach another such milestone a first inevitability could be moving out of its large and grandiose building.