'Flexible' rules save Buckfastleigh sheepskin tanner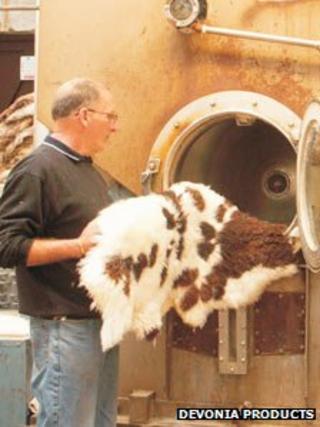 One of the last tanneries in the UK has been saved after a local council relaxed its regulations.
The historic sheepskin tannery, established in Buckfastleigh in 1806, was under threat after local people complained about "bad smells".
Teignbridge District Council worked with owner Devonia Products to reduce solvent emissions then chose not to enforce emission limits.
The council said it was an example of "common sense prevailing".
Its environmental health team helped the tannery ensure that lower emission levels were maintained, with the aim of improving them further.
'Positive' future
Despite Devonia not "technically" reaching national emission targets, no further complaints have been received by the council, meaning the tannery has been able to keep working and avoid the "potentially crippling" cost of new machinery.
There are only a few working tanneries left in England and Devonia is the only one using sheepskin.
Each tannery uses special processes and new guidance on emission levels and tannery permits is expected from the Department for Environment, Food and Rural Affairs (Defra), making it easier for the council to adopt its "flexible" approach.
Council spokesman Kevin Lake said: "This is a great example of common sense prevailing, helping a valued and historic business.
"Often as a regulator we need to make finely balanced judgements on issue like this, and it just proves that a little local knowledge, empathy and practicality go a long way."
Geoff Woods, from Devonia Products, praised the council's "flexible and pragmatic approach" to regulation, which had helped the tannery "significantly" reduce its environmental impact.
"The valuable working partnership that has developed between both parties has allowed Devonia to plan positively for the future as the UK's only remaining sheepskin tannery."