Parkfields teenage activity centre opens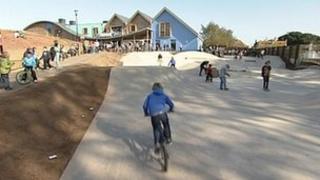 A £5m activity centre with BMX track and DJ facilities has opened for teenagers in Devon.
Parkfield House in Paignton was designed by teenagers and includes a BMX track, sports hall, recording studio and cafe.
The teenagers will pay £12 for a six-month membership, which will also discount bus services to the site.
Torbay's mayor Gordon Oliver said it was a "much needed" and "positive" activity centre.
He said: "It isn't just for young people - other age groups can make use of this centre too and I hope it will attract more visitors and increase spending in Torbay."
'Physical fun'
Torbay Council successfully applied for £4.8m funding from the government's MyPlace scheme to fund the project.
Alex Wright, from Torbay Youth Parliament, said: "I've been involved from the start and as soon as I went through those doors the other week I nearly lost my breath.
"Even coming up here in a taxi to go to one of our regular meetings, the taxi driver went 'wow'."
As well as the facilities, coaching sessions and workshops will be held and youth workers will be based on the site.
Karen Parker, the centre's operations manager, said: "The young people in Torbay don't have many places they can go and get positive activities, professional support and guidance.
"This place can offer all of that as well as some physical fun as well."