Plymouth's Gdynia Way opens after 18 months of roadworks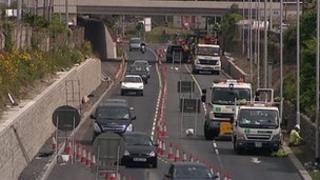 A busy stretch of road which has undergone roadworks for the past 18 months has been officially reopened in Plymouth.
It is hoped work on Gdynia Way, costing £19m will "halve the number of vehicles" using Embankment Road.
The new Embankment Lane link road and the outbound lane on Gdynia Way opened for the first time overnight.
Plymouth City Council said the new layout would "significantly improve bus journey times and their reliability."
Margaret Ellis who lives on the road said: "It's going to be wonderful because it's going to be quieter and all the traffic will now avoid Laira Bridge Road.
"It's been dreadful - 18 months of noise, disruption and chaos."
'Sigh of relief'
Guy Walker, chair of the Plymouth Chamber Transport Group, said: "I think there'll be a sigh of relief across the city this morning.
"It's a very important development for Plymouth... I think people will be relieved that it's all over," he added.
Plymouth City Council said work on the pavements and bus lanes would continue until March.
The new layout includes a link road between Embankment Road and Laira Bridge Road, which all traffic travelling between Plympton and Plymstock will use.
The new outbound lane on Gdynia Way will be the new route for traffic heading out of the city centre towards Plympton.