Honiton stroke patient fails in bid to sue NHS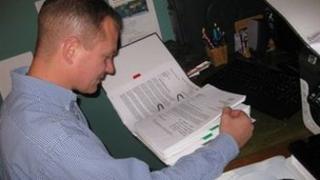 A Devon man has failed in his bid to sue the NHS after he claimed it did not provide him with the treatment he needed to recover from a stroke.
Adam Giles-Wilson, 37, from Honiton suffered the stroke seven years ago leaving him in a coma for a month and unable to use his left arm.
He said he has had to spend £45,000 on neurological physiotherapy to re-train the damaged side of his brain.
NHS Devon said the High Court found its decision to be "lawful and rational".
Mr Giles-Wilson said he took the NHS to court to reimburse him for the money he has so far spent on treatment and any future expenses he may incur.
Four complaints
He said: "I need neurological physiotherapy because it is impossible to re-train the brain yourself.
"I have been paying for my own physio for six years. At the moment [I've spent] about £45,000 and I have to pay someone to cut my nails."
He said he submitted three complaints to the NHS about his treatment but received no response until his fourth complaint in April when he was told the case was closed.
He then went on to complain to the Health Care Commission, which upheld his complaint and said procedures must change in future cases - but this would not affect his treatment.
It was following this decision that he started his failed legal bid, which he now plans to take to appeal.
In a statement, NHS Devon said: "The judge confirmed that the claim for review of the PCT decisions was out of time and that there was no justification or merit in the claim.
"In the circumstances we are sorry that Mr Giles-Wilson chose to take this matter to court."
Mr Giles-Wilson said he had 12 months to take legal action against the NHS from the moment he received a response about his complaints, but he said as this was not until April he was within the time-frame.
"I'm very angry towards the NHS. I feel that it's their way of trying to justify simply not spending money.
"I will take it as far as it needs to go to get the right answer, ethically and morally."