Buyout of Devon pet food firm Forthglade saves 55 jobs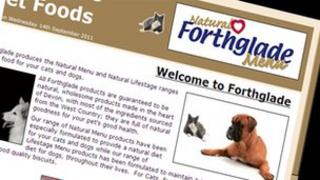 More than 50 jobs have been saved at a pet food firm in Devon that has been saved from closure.
Winkleigh-based Forthglade Ltd, which went into administration in September, has been renamed Forthglade Foods.
The buyers, a combination of shareholders and directors, confirmed redundancies were made.
Bosses believe customer loyalty and a "dedicated team" of 55 will enable the firm to prosper.
"A lot of money has come from savings to rescue the business," said operations director Chris Brooking.
"There'll be a lot of focus on the next few months to make it [the business] more profitable.
"I've got a very dedicated team, they're very keen to see the business survive."
Forthglade Ltd had employed nearly 80 people and Mr Brooking confirmed that some people had been made redundant to "protect the future of the business".
He said the majority of the shareholders and directors lived locally.