'Overloaded' part-time Paignton postman hoarded mail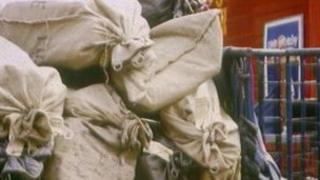 A part-time postman who hoarded more than 30,000 letters and parcels has been sentenced to community service.
Over a three-year period, Paul Willicott, 44, of Fernicombe Road, Paignton, gathered 73 sack loads of mail at his home and in his car.
Willicott claimed he did not have time to deliver them during his four-hour shift.
Torquay magistrates ordered Willicott, who has been sacked by Royal Mail, to carry out 280 hours of unpaid work.
He was also ordered to pay Royal Mail £1,700 towards the cost of re-posting all the mail he had hoarded.
Mail unopened
Willicott had admitted two charges of intentionally delaying post between October 2008 and June 2011 at an earlier hearing.
The court was told the postman was arrested after a member of the public reported seeing piles of undelivered mail in a lock-up garage owned by a charity whose committee he sat on.
Devon and Cornwall Police found a total of 30,304 items, reported to include medical results, job application forms and birthday and Christmas presents. One third of all the post was junk mail.
None of the letters or parcels had been opened or interfered with.
When he was caught, Willicott said he planned to deliver the mail when his workload was lighter, but that never happened.
Richard Porrett, representing Willicott, said his client tried to tell his line managers "on a number of occasions" that he had too much work for a four-hour shift.
'Breach of trust'
"During the course of his round he had to deliver eight bags full of mail," Mr Porrett said.
"He couldn't do it in four hours - it took him sometimes five to five-and-a-half hours to deliver all the mail."
Mr Porrett said his client's route was now covered by two postmen and a van.
"It shows that he had too much post to deliver," he told magistrates.
Royal Mail solicitor Peter Woodley said he was unable to confirm or deny Willicott's claim, as there was no paperwork to show he had made any official protests.
Chairman of the bench David Thompson said Willicott's actions constituted "a significant breach of trust", but he recognised the postman had made several attempts to tell bosses he was overloaded.