Challaborough surfers win battle to protect waves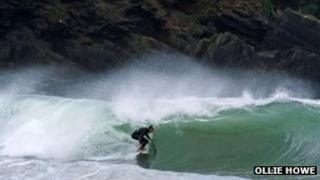 Surfers have won a battle to prevent coastal defences which they said could affect waves at a Devon beach.
A planning appeal has been withdrawn for rock armoury at Challaborough after objections by more than 1,000 members of Surfers Against Sewage (SAS).
D&M Developments said the rocks were to protect two clifftop holiday homes.
It withdrew the appeal after an independent report predicted "negligible" erosion over the next 100 years.
More than 1,000 people signed an SAS petition opposing the dumping of rock armoury on the beach, saying it could affect the quality of waves at Challaborough.
'Great victory'
The initial application was declined by the local authority, so the developers submitted an appeal to the Planning Inspectorate.
Civil engineering company Halcrow said in a report to the Planning Inspectorate that there would be "negligible erosion" until 2105 of the cliffs.
The Planning Inspectorate confirmed that the appeal had been withdrawn.
SAS campaign director Andy Cummins said: "This is a great victory for Challaborough and reinforces the importance of waves to the entire community, both economically and socially.
"Without a passionate surfing community who were willing to stand shoulder to shoulder with SAS this great wave could have been lost."
No-one was available for comment from D&M.