Man airlifted off Lundy by police after assault arrest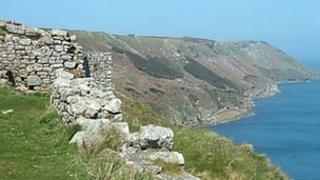 A holidaymaker has been arrested after a woman was assaulted on the island of Lundy in the Bristol Channel.
The Devon and Cornwall Police helicopter made two trips to the island, one to bring back the arrested man and one to bring back the woman.
Lundy is about 20 miles (32km) to the west of Woolacombe in north Devon.
The woman was flown to RMB Chivenor in north Devon and transferred to an ambulance to be taken to hospital on Wednesday evening, police said.
The 3.5 mile (5.6km) by 0.5 mile (0.8km) wide island is a well-known Site of Special Scientific Interest.