Rescued sailor attacks Brixham Coastguard closure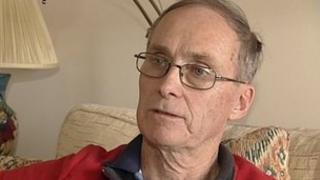 The government's decision to close Brixham Coastguard station has been described as "penny pinching".
Robert Boyd, a paraplegic sailor rescued when his boat overturned in August, said the closure was "totally unnecessary"
Shipping Minister Mike Penning confirmed the Maritime and Coastguard Agency station in Devon would close in 2015.
Mr Boyd said the move could "possibly put lives in danger".
Service 'more resilient'
Brixham Coastguards coordinated Mr Boyd's rescue when his boat capsized during the Dartmouth Regatta in August.
Their local knowledge and speed were key to his rescue, he said.
Mr Boyd was trapped under his boat's hull and was unconscious when he was pulled from the water by a former Royal Navy diver and former lifeboatman who were crewing a race support boat.
He was taken by the RNLI to Britannia Royal Naval College before being airlifted to Plymouth's Derriford Hospital by the Devon Air Ambulance.
"Brixham coordinated everything right from the outset," Mr Boyd said.
"The work they do is fantastic. "I'm told I was under water for about four minutes and was close to death.
"It was vital I got to hospital and they were brilliant."
But in the House of Commons, the shipping minister said the coastguard service would be "better co-ordinated and more resilient" to future challenges under the new proposals.
He confirmed that Brixham, along with a number of other stations, would close by 31 March 2015.
Mr Penning said: "I understand, of course, that the closure of some existing co-ordination centres and the loss of some coastguard jobs will come as a disappointment to those directly affected.
"However, the decisions I have announced today will deliver the modernised, nationally networked, fully resilient coastguard service we require for the future while reducing costs."
In March more than 200 people took part in a protest march against the closure plans.
Last year the station dealt with 1,300 incidents and co-ordinated the rescue of 300 people.
Coastguard stations at Portland and Swansea, which also provide cover in the South West, will also close.