Amputee Norman Croucher from Devon takes up paragliding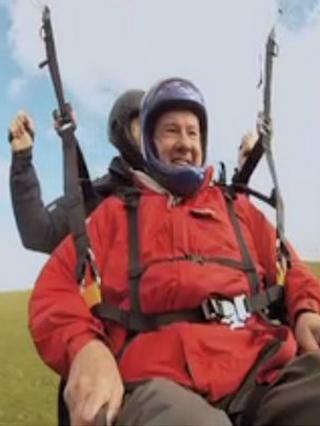 A 71-year-old man from Devon who lost both legs in an accident as a teenager has taken up paragliding.
Norman Croucher, from Topsham, had both legs amputated at the age of 19 after he was hit by a train.
He took up mountain climbing and has conquered peaks all over the world.
Now he has taken up paragliding because "life is like a muscle, if you don't stretch it, it wastes and I just don't plan to live life like that."
Mr Croucher remembers vividly what happened when, after a night out in Salisbury, Wiltshire, he slipped down a train embankment and lost both his legs.
But he remembers no pain because he had "drunk too much anyway".
Mr Croucher, who had excelled at sport at Redruth Grammar School, vowed to further his love of mountaineering, while training to be a teacher.
"The fact that I walk on two artificial legs makes life more challenging and more interesting in some ways," he said.
"When I lost my legs in a railway accident, I contacted a rock climbing instructor very soon afterwards and said: 'Do you think I could still climb?"'
He said: "Well I've always found legs handy when I've been climbing, but let's see what you can do."
Climbing was a passion that has stayed with Mr Croucher all his life and he has climbed many of world's biggest mountains, including Cho Oyo in Tibet at over 8,000m.
He said: "Age naturally slows you a bit, and I don't have the same arm strength as I had so mountaineering is becoming more difficult.
"But that doesn't mean that I am not looking for other adventures and in particular in the mountains.
"It struck me that stepping off the mountain with a paraglider after climbing would be the easy way down."
To achieve his goal Mr Croucher travelled to Cumbria where he met old friend John Crosbie, an expert in adventure sport for the disabled.
Mr Crosbie has developed a special buggy that enables disabled people like Mr Croucher to learn to fly.
Instructor Jocky Sanderson took him on his maiden tandem flight.
Mr Croucher said: "Up a mountain I am in charge of what I do. But sitting there on the hillside, strapped into a buggy, I felt in a sense helpless.
"But it was just an instant thrill, one of the most thrilling things I have ever done."
Buoyed by his taster flight in Cumbria, Mr Croucher now wants to try to launch the paraglider on his own, but the lack of speed on his legs has thwarted his attempts for now.
"It will be a problem, I can't run well enough with my legs to take off," he said.
"But I don't feel any sense of failure in realising my limitations. And in all the adventure sports I have promoted for disabled people its always about finding out what you can do and what you can't do."
The full story can be seen on Inside Out on BBC1 on 28 November at 19:30 GMT.