Devon schools to close for a day in strike over pay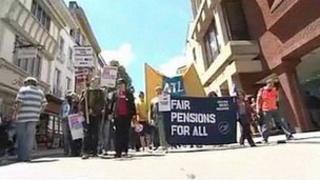 More than 55 schools are expected to close in Devon on Wednesday because of industrial action, the county council has said.
There are 364 schools within the county council area and it said a full list of closures would appear on its website.
Torbay Council said 11 out of 42 schools were expected to close. Plymouth City Council is yet to release its information.
Public sector workers voted to strike because of changes to pensions and pay.
All three authorities said parents and carers would be told of closures by each individual school.
A spokesperson from Plymouth City Council said: "Many schools are expected to be closed or partially closed."
'Reforms needed'
Teachers and head teachers are angered by planned government changes to the teachers' pension scheme (TPS) which, they say, will mean teachers working longer, paying more and receiving less when they retire.
The government has said with people living longer, the cost of public sector pensions was rising and reforms were needed.
Devon County Council said the 39 academies in the area did not have to inform them if were planning to close.
On 30 June, hundreds of people attended rallies in Exeter, Plymouth and Truro as teachers and civil servants walked out in a protest over proposed changes to public sector pensions.