Torquay cab driver Jordan Brokenshire jailed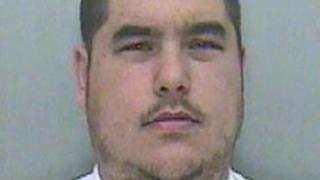 A Devon cab driver has been jailed for seven years for sexually assaulting two female passengers.
Jordan Brokenshire, 28, from Paignton, preyed on two women he drove home from nights out in Torquay, Exeter Crown Court heard.
He was convicted of two counts of assault and two of sexual activity without consent.
Judge Graham Cottle said Brokenshire targeted vulnerable women for his "own sexual desires".
The judge said: "You have a worrying attitude towards women. You believe you have some sort of sexual entitlement."
Both women were assaulted on the same Friday night in 2010.
Brave victims
The first assault, on an 18-year-old, happened after he had dropped off four of her friends, so she was left alone in the silver six-seater car with him.
The second happened just 30 minutes later when he took a 21-year-old woman to her shared flat in Torquay and asked to come in and use the toilet.
Sean Brunton, prosecuting, said police had warned Brokenshire about his conduct 10 months earlier when a 17-year-old girl complained he had talked dirty to her in his cab, tried to kiss her and make her take part in a sex act.
Det Sgt Rob Youngman, of Devon and Cornwall Police, said: "The seven-year sentence is welcomed by the investigating officer and those victims who were brave enough to come forward and report these serious crimes.
"Throughout the trial, he refused to acknowledge any responsibility for his offending behaviour and, as such, the sentence given goes some way to demonstrate the utter contempt he had for the feelings of the victims."