Court martial outlines war objector Michael Lyons' failed appeal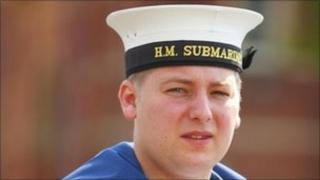 A court martial board has given its reasons for rejecting an appeal by a Royal Navy medic who was detained for refusing to undertake rifle training.
Michael Lyons, 25, of Plymouth, refused training in May 2010 claiming he had a "moral objection" to bearing arms.
He appealed his seven month sentence at a military correction facility and his dismissal from the Navy.
Lord Justice Toulson said Lyons had failed to consider the impact of his actions.
Human rights
In October, Lyons' challenge, against his conviction for disobeying a lawful command, was rejected.
The court martial heard he had been ordered to deploy to Afghanistan but told a Warrant Officer he could not start a weapon training course because he had a "moral objection" to bearing arms.
His application to be considered a conscientious objector had been refused and he was awaiting an appeal to the Advisory Committee on Conscientious Objectors - this was also later rejected.
Lyons' barrister claimed he should not have been expected to take part in active service until his claim had been determined because it contravened the European Convention on Human Rights.
Outlining the reason for the rejected appeal Lord Justice Toulson said: "A person who voluntarily enters military service undertakes serious responsibilities potentially involving the lives and safety of others."
He said that until a decision was finally established it was essential that military service should continue otherwise he could "immediately escape from the responsibilities" which he had volunteered for "regardless of the consequent risk to others".
Lyons has now served his sentence.