Devonport navy training in 'radical change'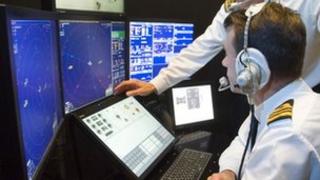 Raw recruits for the Royal Navy will be getting a first hand experience of life on board with a new high-tech training base on land.
The £108m Maritime Composite Training System (MCTS) is being unveiled at Devonport Naval Base later.
Recruits will be trained on screens replicating equipment on the latest type 45 destroyers and existing ships.
The navy said it represented "the most radical change to its training for over 40 years".
The navy said the equipment, built by BAE Systems at Devonport and at HMS Collingwood in Fareham, Hampshire, would be used by about 1,000 new trainees a year.
Defence Minister Peter Luff said: "This new training system represents a ground-breaking move for the Royal Navy that will enhance its training capability for the future.
"It will enable personnel to train to the highest standard, utilising the latest technological developments.
"With this system, the UK's sailors will be some of the best prepared in the world, ready to take on the challenges of the future."
The two MCTS sites, which are nearly 200 miles apart, are connected by a fibre optic link.