Heater warning after Devon fire death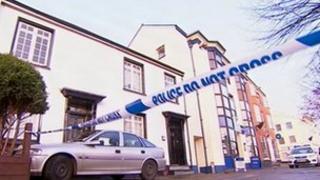 Investigators believe a fatal fire in Cullompton was caused by leaving clothes and other combustible items next to a storage heater.
A 95-year-old woman died in the fire in Gold Street Mews shortly before 06:30 GMT on Saturday.
In another fire, also believed to have been caused by objects left close to a heater, two terraced houses were damaged by fire in Exmouth.
Firefighters have issued warnings about the use of heaters.
Devon and Somerset Fire Service warned people to position heaters clear of curtains and furniture and keep at least 3ft (1m) away from them and have fireguards to prevent and protect children and pets from coming into contact with them.
It also said that washing should never be dried on or near heaters and smoke alarms should be checked regularly.
Last week an inquest in Cornwall heard that author Joan Rendell died after a blanket over her knees was set alight by a two-bar electric fire.