Plymouth minor injuries unit offers crutch amnesty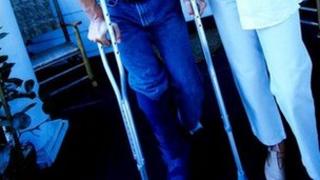 About half the hospital crutches given out to people are not being returned, according to Plymouth Community Healthcare.
It said the minor injuries unit at Devonport's Cumberland Centre was having to restock every two months.
Each pair of crutches costs £20 and the centre has spent an additional £600 on them in the past few months.
The authority is currently offering an "amnesty" for the return of crutches and walking sticks.
It said no action would be taken - no matter how long people have held on to the NHS equipment or why it has not previously been returned.
"Often people simply forget to return them, and as time goes on think that they're no longer of use," clinical manager Nova Norrie said.
"However, even crutches that have been out of use for a while can still be repaired for less cost than buying a new set."
With normal use, the walking sticks and crutches should last for several years.
Equipment can be returned to the Cumberland Centre, Derriford Hospital or Mount Gould Local Care Centre.