Devon Air Ambulance Trust to get new helicopter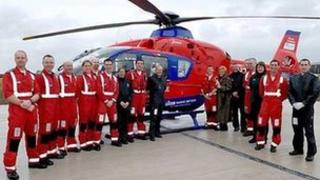 A new, fully-equipped helicopter will be bought for the Devon Air Ambulance Trust (DAAT) saving the charity £144,000 each year.
DAAT needed £4.5m to order a new, adapted EC135 helicopter.
The charity had secured £3.9m, but a two-year fundraising appeal by BBC Radio Devon raised £602,000, the last of which was pledged earlier.
"It's fantastic, the money secures our future and we can plan ahead," Caroline Creer from DAAT said.
"Our helicopter will come into operation in Autumn 2013."
DAAT has to raise up to £4.5m each year to run its service. It currently owns one helicopter but owning a second would save the charity about £12,000 a month in lease charges and other costs.
Over two years, BBC Radio Devon listeners raised money with events including the Agatha Christie sea swim and a 24-hour folk music marathon.
The final £17,000 was pledged to DAAT as part of a 12-hour on-air auction which sold items including a signed pair of Tom Daley's Speedos from the Beijing Olympics, which were bought for £200.
Marie Clarke, who was rescued by DAAT said: "It was absolutely brilliant, they were so good, kind and caring.
"I think we take so many things for granted these days, but they get us to hospital faster."
Since DAAT started flying in 1992 it has flown more than 17,500 missions.
The new helicopter will be used across the county during daylight hours, which DAAT said it hoped to extend to night-time cover in the future.