Rare tentacled lagoon worm may delay Dartmouth slipway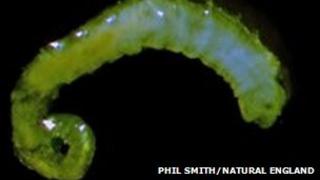 A tiny worm, less than 5mm long, could delay the building of a new £300,000 slipway in Devon.
Before work can start on the slipway at Dartmouth, an environmental study has to establish if the tentacled lagoon worm inhabits sediment in the estuary.
The worm is classed as a nationally scarce marine animal and is protected under the Wildlife and Countryside Act.
If the little marine creature is discovered, the slipway design may have to be adapted.
The new slipway, next to the Higher Ferry, will enable the RNLI inshore lifeboat and local boats to launch without potential danger from the wire hawsers which guide the ferry.
It was hoped the work would be completed before the boating season begins, but that will now depend on the results of the assessment.
'One of the hoops'
South Hams District Council, which commissioned the impact study, said environmental experts had to wait for low tides, but began the work on Monday.
South Hams councillor Hilary Bastone, who has been fighting for a slipway for 20 years, said: "This is just one of the hoops we have to go through."
According to Natural England, the tentacled lagoon worm appears to require brackish water, which is not fully salty.
Ed Brown, the council's senior planning officer said: "We have to satisfy ourselves that there will be no damage to the ecology of the river."
He said the ecological assessment would suggest "appropriate mitigation" if the tentacled lagoon worm is found.
The council is liaising with Natural England, the Environment Agency and the Estuaries Officer of the South Devon Area of Outstanding Natural Beauty, which the slipway plans fall inside.
Mr Brown said mitigating measures had allowed other development to proceed in the past.
The new slipway, designed by engineering consultants URS Scott Wilson Ltd, will have an expected lifespan of 50 years.