Children from Devon treated to Flybe Santa flight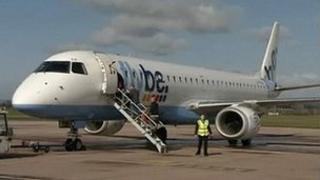 Children who have cancer are being taken on a flight with Santa over Exeter and the South Devon coast.
The 21 children and their carers are from the city's Royal Devon & Exeter Hospital.
The aircraft will leave Exeter Airport at 14:30 GMT for the 30-minute flight, which is being paid for by the airline, Flybe.
Players from Exeter City Football Club will also be onboard to meet the children.
Heather Rake, a social worker from cancer charity CLIC, said: "These children have to endure prolonged and harsh treatment, which disrupts the whole of their family life.
"To be able to give them a treat like this flight is fantastic and helps not just the children, but also the staff caring for them, by giving them something positive to focus on."
In previous years, the airline has put on similar flights from Southampton and Inverness.