Diocese of Exeter sees rise in church metal thefts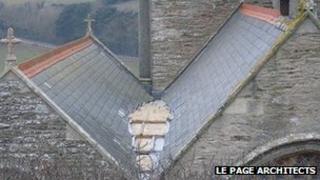 Metal theft claims from churches in part of Devon have risen steeply, the insurance company for the Diocese of Exeter has revealed.
It said 30 churches had claimed for metal thefts in 2011, compared with 10 in 2010 and five in 2009.
Thefts this year in the diocese have caused damage amounting to £60,000, insurance company Ecclesiastical said.
The costs include replacing copper and lead and repairing damage to interior contents of the churches, it added.
The company insures the majority of the 600 churches in the diocese, a spokesperson said.
In 2010, the theft costs amounted to just under £20,000, and in 2009 it was about £15,000.
A Diocese of Exeter spokesperson said: "We urge churches to review their security measures and look at simple measures such as locking away ladders and improving lighting to prevent easy access."
Devon and Cornwall Police said it was working with the community and all partners involved to bring offenders to justice.
It said it encouraged churches to take precautions to avoid them becoming victims of metal thefts.