Plymouth pipe burst turns Victoria Road 'into waterway'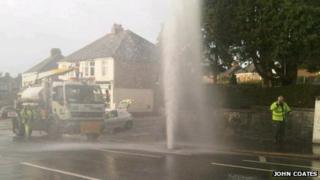 A Plymouth road was showered with water from a 30ft (9.1m) high geyser after a mains pipe burst.
The burst in Victoria Road, St Budeaux, came as South West Water (SWW) alerted householders about pipe problems in the winter.
Engineers are investigating the cause of the burst, which affected a small number of homes.
The pipe was fixed in about an hour, SWW said. The firm's website gives details about protecting pipes.
Drinking water services manager Mark Baker said: "We want to help customers avoid the serious problems encountered last year by providing what we hope will be useful information to prepare for the winter months ahead.
"There are a number of simple steps which can help, such as lagging your pipes ensuring there are no gaps at bends, valves or fittings."