South Hams council may face legal action over new town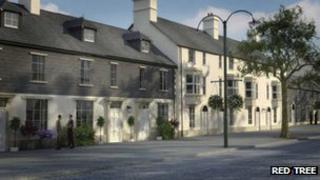 A Devon council could face legal action from people opposing a project to create 5,500 homes after the number of affordable properties was cut.
Plans for Sherford, between Plymouth and Brixton, were approved by South Hams District Council on Wednesday.
Developers, Red Tree, had proposed making 45% of the homes affordable but that has been reduced to 20%.
Barrister John Lloyd, who represents campaigners in Brixton, said there was a chance of a judicial review.
The community would be built between Plymouth and Brixton.
'They would succeed'
South Hams resident Robin Hogg, from Campaign to Protect Rural England, said: "Sherford as an idea was good initially... but we need more affordable homes."
Mr Lloyd said: "There's been a drop in the provision of affordable housing, there's been a reduction of proper transport facilities and because of that it would create a chance of a judicial review and in my view they would succeed."
Marion Playle, head of planning, economy and community at the council, said: "It [the project] is going to provide housing - much needed affordable housing, and community facilities for people who really need it."
The authority added that there had been a number of consultations on the plans.
The plans will also go before Plymouth City Council for approval in the new year.
The town, which would be a similar size to Totnes, includes three primary schools, a secondary school and a health centre, as well as land for retail and business, a community park, and two wind turbines.
Plans for Sherford were first launched more than 15 years ago and outline planning permission was granted in 2008, but development was thwarted by the downturn in the economy.
South Hams hopes construction will start in the next 18 months.
The first phase of about 2,750 homes, of which 15% will be classed as affordable, will take about five years.