Child, three, found dead after house fire in Lifton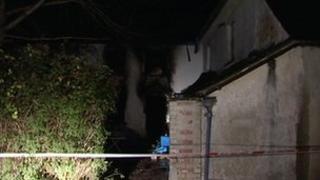 A three-year-old child has been found dead at the scene of a fire at a house in west Devon.
Emergency services were called to the house in the Lifton area just after 20:00 GMT on Friday.
The house was occupied by a family of four, Devon and Cornwall Police said. Three people were treated at the scene for injuries.
Police said they were investigating the cause of the fire, which was currently unknown.
Lifton parish councillor Jean Greenhalgh, 83, said she was extremely saddened.
"A death of a young person is terrible any time of year, but is all the more saddening around this time of year - when little kiddies get so excited by Christmas," she said.
"It is so tragic. My heart goes out to the child's family, they must be devastated."