Lifton house fire death of three-year-old girl 'tragic'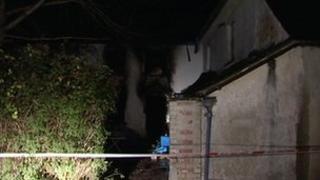 A house fire in Devon in which a three-year-old girl died has been described as "very tragic" by police.
Amelia Brown died after the kitchen caught fire at property at Grinacombe Moor, near Lifton, just after 20:00 GMT on Friday.
Four people lived at the property, which was spilt into two homes. The girl and her mother lived in one part, and her grandparents in the other.
The three other people who lived there were accounted for, police said.
Det Sgt Barry Mitchell, of Devon and Cornwall Police, said: "All the other people who ordinarily lived there are safe and well.
"It's very tragic, and no doubt it will cause great distress to the family.
"We will try and determine the cause of the fire and further searches and examinations being carried out."
Lifton parish councillor Jean Greenhalgh, 83, said she was extremely saddened.
"A death of a young person is terrible any time of year, but is all the more saddening around this time of year - when little kiddies get so excited by Christmas," she said.
"It is so tragic. My heart goes out to the child's family, they must be devastated."