Michael Bird jailed for multiple stabbing of partner Janine Tiley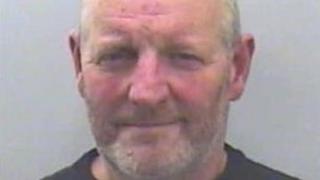 An Exeter man has been jailed for nine years for stabbing his partner to death.
Michael Bird, 54, of Wonford Street, Exeter, admitted the manslaughter of Janine Tiley, 43.
Bird stabbed Ms Tiley 17 times and later tried to kill himself, Exeter Crown Court was told.
The couple, who had lived together for 21 years and had two daughters aged 21 and 17, had a history of bitter arguments.
The court heard that police had been called to their home 20 times in the previous four years as a result of Ms Tiley's noisy and drunken behaviour.
The killing happened on 14 July as the couple prepared a barbecue at their house.
Bird told police Ms Tiley attacked him after he saw her adding vodka to her wine and poured the rest of the bottle down the drain.
She hit him over the head with a heavy object then picked up a knife. He disarmed her and then used it to kill her.
Heating engineer Bird went for a drink in a pub after the killing and returned via a Costcutters shop where he bought flowers which he laid over Ms Tiley's body.
Police were called when one of the daughters went to the house the next morning and found Bird covered in blood after slitting his throat and wrists.
Martin Meeke, QC, defending, said Bird was a hard working family man who ran his own business.
He said he tried to help Ms Tiley overcome her drinking because he feared she would become wheelchair bound if she carried on abusing vodka.