Devon hospitals treatment waiting lists increase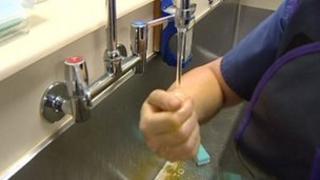 The number of people waiting more than 18 weeks for hospital treatment after a GP's referral has risen at three out of four Devon hospitals.
Patients have a right to expect hospital treatment within 18 weeks.
But numbers waiting at Derriford in Plymouth rose from 859 in September 2010 to 1,189 in September 2011. The rise was 1,674 to 1,890 at Exeter Hospital and 65 to 93 at North Devon.
The number on the waiting list dropped from 1,519 to 478 at Torbay Hospital.
The latest figures released by the Department of Health show that in most acute hospitals in the four South West counties, the number of people waiting longer than 18 weeks has seen a jump in the past year.
'Additional clinics'
A spokesperson for Plymouth Hospitals NHS Trust, said: "As the largest provider of inpatient services in the peninsula we see and treat more than 5,000 elective inpatients and day cases at our hospitals each month.
"It is disappointing that the number waiting beyond the '18 weeks treatment promise' has risen in the particular months and we would apologise to anyone who has had to wait.
"Across key specialities we are rectifying the position by increasing our capacity.
"We are however still within the 92% national target for patients to be seen within 18 weeks. However, we are striving to exceed this target and 82% of our patients are in fact being treated within 13 weeks."
Paul Mears of South Devon Healthcare Trust, which runs Torbay Hospital, said: "We have done some work, particularly in orthopaedics.
"We made sure we had additional clinics to try and clear the backlog of patients that we had waiting over 18 weeks to get us back to a steady state where we can meet our 18 week requirements.
"That's been the same across all the specialties in the hospital."
The number of people waiting more than 18 weeks dropped from 2,947 to 1,723 at the Royal Cornwall Hospital.
A spokeswoman for the Royal Cornwall Hospitals Trust said: "As a result of additional activity and investment, since February 2011 we have made considerable improvements in our waiting times and reduced the overall number of patients waiting.
"The proportion of patients admitted within 18 weeks of referral by their GP has increased from 70% to over 90%.
"At the same time, the number of patients waiting more than 18 weeks for a surgical procedure has fallen from more than 1,400 to just under 250.
"We provide care for around 10,000 inpatients and day cases at our hospitals each month and our staff are working hard to continue to reduce waiting times."
The government is fining hospitals that do not tackle long waiting lists.