Sainsbury's store could be built on Bovey Tracey land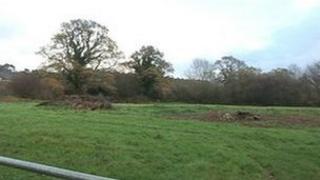 A Devon town council is trying to overturn a covenant protecting "community" land after an approach by supermarket giant Sainsbury's.
Sainsbury's agent Storegap approached Bovey Tracey Town Council about a store on a field on Le Molay-Littry Way.
The field was given to the council in the 1990s but councillors agreed at a meeting behind closed doors to try to overturn the covenant.
The council has rejected accusations of being secret and undemocratic.
'Removing covenant'
The covenant says that the council will not allow the land to be used "for any purpose other than the provision of community facilities for residents of Bovey Tracey area".
On 7 November the council agreed at a session at which the public and press were not allowed, to "progress the investigation into the legalities of removing the covenant".
It has appointed solicitors at a cost of £750 to help in the move, according to minutes of the meeting.
The council's clerk wrote an email to Storegap in August saying: "I am fairly confident we will wish to progress further this business opportunity" in documents released to campaigners following a Freedom of Information request.
Sally Morgan, who is collecting signatures for a petition against any supermarket on the land, said: "I think something as important as this which affects the whole town should have been a lot more open.
"The more councils have meetings in secret the more you have to worry.
"We should have known about [it] and been asked properly."
Councillor David Elphick said: "We are not pulling the wool over anyone's eyes. We are just looking at the options.
"When we have something concrete to put before the public then that's what we will do."
A Sainsbury's spokeswoman said: "Sainsbury's is always interested in opportunities to improve our existing stores and invest in towns where we can contribute to the community.
"Following positive feedback on new stores in Ottery St Mary and Dawlish, we have spoken with Bovey Tracey Town Council regarding the potential for a small store in the town."
Bovey Tracey Amenities Society is holding a public meeting to discuss the issue on 17 January at the Methodist Hall.