Occupy Plymouth moves to disused JobCentre building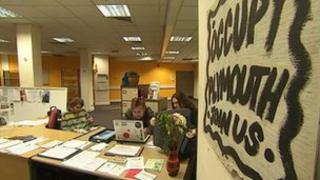 Protesters who set up camp outside Plymouth's shopping centre have moved to a disused building in the city.
They are supporting a global movement against inequality and corporate greed.
The demonstrators are now at the former JobCentre building, in Buckwell Street, after leaving land outside Drake's Circus Shopping Centre.
They said it would enable them to better engage with the community. The estate agents responsible for the building declined to comment.
One protester, who gave his name as Mark, said the move would allow them to house "guest speakers and put on community events".
The group had been camping in Jigsaw Garden, which is between the university and Drake's Circus.
"I don't think the move is a soft option... I think we've proved over the last six weeks that we're a determined and tenacious bunch," he added.
'Stick it out'
Mark said they gained "lawful entry" to the building and there was no criminal damage.
He said Occupy Plymouth's legal team were liaising with the police, property developers and the estate agents.
"Until we're asked to leave, I want to stick it out here," Mark said.
Before Occupy Plymouth moved to Jigsaw Garden, the site had been recently landscaped.
Mark said they had the money and turf to restore the site and were in talks with the associated parties.
The estate agents responsible for the disused building, Jones Lang LaSalle, declined to comment.
Occupy Plymouth was inspired by the protest camp at St Paul's Cathedral in London and others around the world.
The group began camping in Plymouth at the beginning on November.