Row over South Brent 'death trap' slip road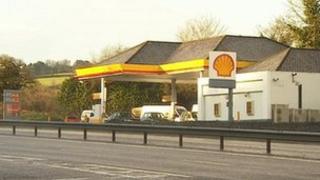 A Devon parish council has accused the Highways Agency of ignoring safety concerns at a "death trap" slip road beside a petrol station on the A38.
Traffic leaving the Shell filling station at South Brent has to pull almost from a standing start into two lanes of fast moving traffic.
Vehicles leaving the dual carriageway for South Brent have to cross the traffic leaving the petrol station.
The Highways Agency said it was talking to Shell about safety improvements.
The only road crash death at the scene since 1999 was in March 2006 when a driver died in a single vehicle collision, according to official data recorded by police.
Parish councillor Glynn Richards, who has led the parish council's calls to improve safety at the scene, said the petrol station should be moved to another site.
'Near-miss'
"It's a death trap, an accident waiting to happen," he said.
"I get a complaint almost every week about a near-miss.
"But the Highways Agency won't take notice until there's a serious collision."
The Highways Agency said in a statement: "The Highways Agency takes safety issues on its roads very seriously.
"We are in discussions with Shell about their proposals for highways improvements on the A38 at Carew including the exit from the petrol filling station and it is hoped details of this scheme can be announced soon.
"We continuously review safety issues on the trunk road network and are happy to discuss any concerns raised."