Suicide attempt caused Barnstaple house explosion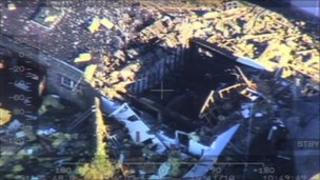 An explosion which destroyed a house in north Devon last year was caused by a man's attempt to kill himself, a court has heard.
Oliver Moon, 23, was living in a sheltered house in Barnstaple when he released the contents of four bottles of liquid propane gas last November.
Debris from the resulting explosion was found 1,000ft (300m) away.
Moon, who admitted arson at Exeter Crown Court, was detained under a hospital order.
The court was told Moon, who had previously tried to commit suicide, had been released from a mental hospital in Devon just weeks before the incident and was living in a monitored flat in Trinity Street.
Personality disorder
The blast in the early hours of the morning caused more than £1m damage to 14 properties.
Moon and a fellow resident, Michael Collins, suffered serious burns and were treated at a specialist plastic surgery unit in Wales.
The court heard Moon had tried to kill himself in the same way twice before, but had been rescued by Devon and Cornwall Police.
On each occasion he was sectioned and released, despite being diagnosed with a personality disorder.
At the time of the blast in Trinity Road, Moon was under the care of the mental health charity Rethink and the Devon Partnership NHS Trust, which have both carried out reviews into the case.
Mr Andrew Maitland, prosecuting, said three days before the blast, Moon used a credit card to order six propane cylinders.
Sticky tape
Another resident saw them being delivered and tipped off the care staff who confronted Moon but only two were found.
Moon then sealed up his doors and window before jamming the propane cylinders open with a fork and sticky tape, thinking he would die from gas poisoning.
Judge Graham Cottle ordered Moon to be detained under a hospital order at the Cygnet Hospital in Keystoke, Weston-super-Mare.
He will not be released until the Ministry of Justice is satisfied he poses no risk to the public.
Judge Graham Cottle told Moon: "The very facts of this case indicate the extent of the risk you pose of causing very serious harm to other people and yourself."
Mr Collins, who was injured in the blast, said although the only part of him which was not burned was his finger tips, he still felt "blessed" to be alive.
Following Moon's sentencing, Rethink and the Devon Partnership issued a joint statement describing the incident at the Cherry Trees flats as "deeply regrettable" and apologising for any distress it caused.
Guinness Care and Support, which owns the building, has applied for planning permission to rebuild the destroyed house.