Bicton College in Devon unveils military academy plan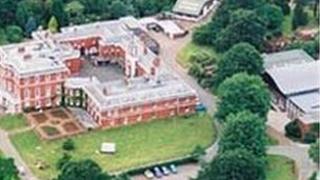 A college in Devon will open a military academy next year, it has announced.
Bicton College hopes to open its residential military academy next September for people aged up to 25 interested in an armed forces career.
The college said it would provide a 25-week residential course introducing the "rigours of military life".
It is hoped the course will provide potential armed forces recruits with the skills needed for them to apply and enter the services.
'Major risks'
Teaching and ex-military staff will run the course.
Bicton College principal David Henley said: "Our academy is set apart from other military preparation courses not just because ex-military staff will be delivering much of the subject matter, but because of the fully residential nature of the programme.
"This approach will better prepare the learners, as separation from loved ones is recognised as one of the major risks for recruits not completing initial military training."
The Royal Marines' Lympstone training base and the Ministry of Defence have been involved in the college's plans.
Applicants to the course will have to meet specific academic, medical and fitness criteria, the college added.